Online Translation English:
This is already the 14th year that the German lover Carder settled in Ningbo, Zhejiang. Unlike most foreigners who have come to China for a brief "gold rush" and then left, he is applying for the China Green Card and is not going to leave.
After his wife Evelyn had cancer, his life plan had puzzled many people: why stay in developing countries at their own expense and not return to developed Germany?
Evelyn had advanced lung cancer. They quickly spent all their savings, but they were "good and good". The stories that happened afterward spread all over Zhejiang and returned to their hometown in Germany.
Two years ago, the doctor said she lived up to 3 months
Ai Kede is currently a teacher at the Ningbo Institute of Technology. He teaches German and German history. He has humor in class and is very popular with students. He and his wife Evelyn have lived and worked in Ningbo, Zhejiang for 14 years.
Two years ago, Evelyn was diagnosed with lung cancer. The doctor said she lived up to three months. The couple spent their savings and could not do anything. The local government and Chinese and foreign friends extended their help.
A non-profit organization launched an online donation. Netizens generously donated money after learning about their situation. Tencent Public Welfare Platform raised 250,000 yuan, and drip-raising platform raised 128.8 thousand yuan, solving their immediate needs.
Today, Evelyn has survived for two years and he is in good physical condition. Ekard moved: "If it were only me and Evelyn fighting alone, I certainly wouldn't be able to. By relying on the big guy, we can get to this stage today. Thank you all for the love we have."
"If you come to China, you can't make money and you just leave."
Everyone said that Ekad, Eveline and the couple are "good and good."
When the two couples first arrived in Ningbo 14 years ago, they soon became a part of local foreigners. This "foreigner about rice" has been continuously expanding, with a maximum of more than 6,000 people. They formed the custom and had dinner on Wednesday evenings.
In a dinner, Ai Kede met the staff of the Ningbo Charity Federation and produced the idea of ​​doing charity. In that year, severe floods occurred in southern China. They organized donations during the dinner and they paid 8888 yuan for a meal. After the Wenchuan earthquake, they also made a donation.
A few times down, Ai Kede began to seriously think about public welfare. "I think that donating money is just a sign. How do we foreigners as guest-guests express our heart? We can't just make money when we come to China. It's not appropriate to leave after earning money. This is inappropriate," said Carder. .
After that, they frequently cooperated with the Ningbo Charity Federation to raise stuffed toys for children in orphanages and to teach foreign languages ​​to migrant children's schools. "We are going to teach. If we can change the life of one of our children and give them courage to pursue our dreams, we can be considered meritorious." said Aikade.
Because of his active performance in public welfare, Ai Card gained various honors in Ningbo. In 2008, he won the "Camellia Award" set by the Ningbo Municipal Government for foreign experts. In 2010, he participated in the Shanghai World Expo as an image promotion ambassador for a 5A class scenic spot in Ningbo.
Applying for a China Green Card
From helping others to being helped, Love Carder felt the power of "love" in China. As a foreign expert, he currently holds a five-year work visa and is applying for a "green card" in China. He hopes that he will have good results.
He said that the couple are not planning to return to Germany. They plan to stay in Ningbo for the rest of their lives and reward Chinese friends who have helped them overcome difficulties.
Related reading: China's green card known as "the world's most difficult"
Link to source: http://zj.qq.com/a/20180529/023678.htm?qq=0&pt_src=3&ADUIN=909226952&ADSESSION=1527556045&ADTAG=CLIENT.QQ.5533_.0&ADPUBNO=26719 
这已经是德国人爱卡德定居浙江宁波的第14个年头了,和大多数来中国短暂"淘金"然后离开的老外不同,他正在申请中国绿卡,不打算走了。
在太太伊芙琳患癌之后,他的人生规划曾令许多人不解:为何要留在发展中国家自费治疗,而不回发达的德国?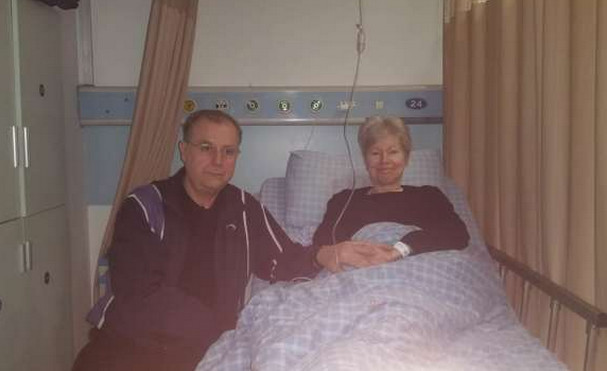 伊芙琳得的是晚期肺癌,他们很快花光了所有积蓄,但"善有善报",之后发生的故事传遍了浙江,也传回了德国老家。
两年前,医生说她最多活3个月
爱卡德目前是宁波工程学院的一名教师,教授德语和德国历史,上课幽默,很受学生欢迎。他和妻子伊芙琳已经在浙江宁波工作生活了14年。
两年前,伊芙琳确诊为肺癌,医生说她最多活3个月。夫妻俩花光了积蓄,一筹莫展,当地政府、中外朋友纷纷伸出了援手。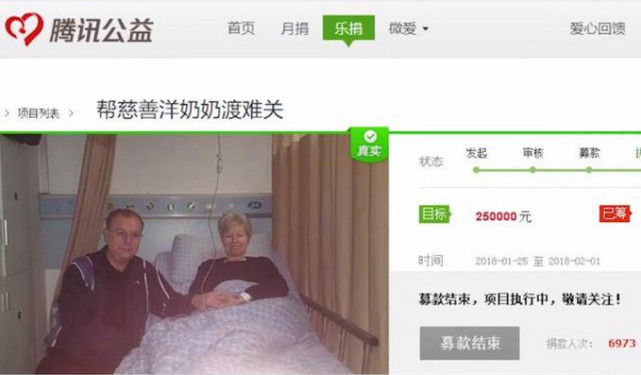 有公益组织为其发起网上募捐,网友们在了解他们的情况后慷慨解囊,腾讯公益平台募集了25万元,水滴筹平台募集了12.88万,解了他们的燃眉之急。
如今,伊芙琳已经挺过了两年,身体康复情况良好。爱卡德感动地说:"如果只是我和伊芙琳孤军奋战,肯定不行。靠着大家伙,我们才能走到今天这一步。谢谢大家给我们的爱。"
"来中国不能挣完钱就走"
大家都说,爱卡德、伊芙琳夫妇这是"善有善报"。
14年前两口子刚到宁波时,很快就和当地外国人打成一片,这个"外国人约饭群"不断扩大,最多时有6000多人。他们形成惯例,每周三晚上聚餐。
在一次聚餐中,爱卡德认识了宁波慈善总会的工作人员,产生了做公益的念头。那一年中国南方发生严重洪灾,他们在聚餐时组织捐款,一顿饭的工夫就募了8888元。之后汶川大地震,他们也做了募捐。
几次下来,爱卡德开始认真思考公益这件事。"我觉得捐钱只是一种表示。我们外籍人士作为客居者,怎样表达我们的心?我们来中国不能仅仅是挣钱,挣完钱就走人,这是不合适的。"爱卡德说。
之后他们频繁跟宁波慈善总会合作,为孤儿院的孩子们筹措毛绒玩具,到民工子弟学校义务教外语。"我们去支教,如果能改变其中一个孩子的一生,给他们带去追求梦想的勇气,也算是功德无量了。"爱卡德说。
因为在公益事业上的积极表现,爱卡德在宁波收获了各种荣誉。2008年,他获得了宁波市政府专为外国专家设置的"茶花奖"。2010年,他作为宁波某5A级景区的形象推广大使参加了上海世博会。
正在申请中国绿卡
从帮助别人,到被人帮助,爱卡德在中国感受到了"爱"的力量。作为外国专家,他目前持5年期工作签证,正在申请中国"绿卡",他希望能有好的结果。
他说他们两口子不打算回德国了,计划余生能在宁波一直待下去,回报帮助他们渡过难关的中国朋友。
相关阅读:中国绿卡号称"全球最难"